This near miss story sends chills down every frequent flyer's spine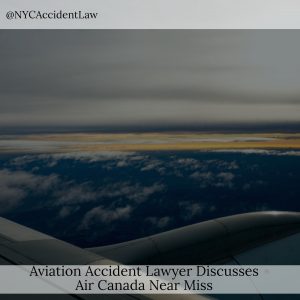 It's an airline passenger's worst nightmare: a major airline disaster. According to media reports, an Air Canada jetliner missed crashing into four fully loaded passenger jets, coming within less than 100 feet before abruptly pulling up and completing what is known as a go-around.
Go-arounds are common and occur when an airplane must circle the airport prior to landing, either because the runway is crowded or because air traffic controllers are too busy to give the pilot direction to land the plane. In other words, if something occurs to make conditions "not quite right for landing," the tower will tell the pilot to do a go-around. If you fly regularly, you might even know exactly when this occurs.
However, it is not normal for a commercial jet to get within 98 feet of other planes and nearly crash into them. This is what happened with the Air Canada flight. According to aviation experts who spoke to the press, if the plane hadn't safely aborted its landing, it would have been the deadliest aviation accident in history. John Cox, a retired airline pilot, stated, "This was very close to a catastrophic event."
How Often Do Near Misses Happen?
According to the FAA, near misses like the one that occurred with the Air Canada flight are "rare events." The plane, an Airbus 320, had 135 passengers on board, along with five crew members, when it approached the runway at San Francisco airport on a scheduled flight from Toronto.
As the plane approached the runway, air traffic controllers noticed that it was headed directly for a taxiway where four other planes were sitting, waiting to takeoff. All four of the jets were fully loaded with passengers and filled with jet fuel. The taxiway in questions runs parallel to the runway the Air Canada plane was supposed to be approaching.
Although investigators are still looking into the incident, preliminary reports indicate that the pilot confused the taxiway for the runway. Audio from the flight reveals the pilot telling the tower that there are lights on the runway. Another voice — assumed to be someone from the tower — says, "Where's this guy going? He's on the taxiway?"  
Aviation Accident Lawyer on Near Misses
New York airline accident lawyer Jonathan C. Reiter states, "The Air Canada near miss story sends chills down every frequent flyer's spine. It's the kind of incident that makes everyone question just how often these near miss events occur. We know about this one, but just how often do these cases happen? How safe are we when we step on a plane? Human error is a factor in 80 percent of airline crashes."   
If you've been injured in an airline accident, or you have lost a loved one in an airplane crash, contact an experienced New York airline accident lawyer as soon as possible to discuss your case.
Jonathan C. Reiter Law Firm, PLLC
Media Contact:
New York City airline accident lawyer Jonathan C. Reiter. T: 212-736-0979. 
Attorney Advertising
Prior results cannot and do not guarantee or predict a similar outcome with respect to any future case. Recoveries always depend upon the facts and circumstances of each case, the injuries suffered, damages incurred, and the responsibility of those involved.
Sources: