LaGuardia has seen its fair share of near-misses and tragically several fatal aviation accidents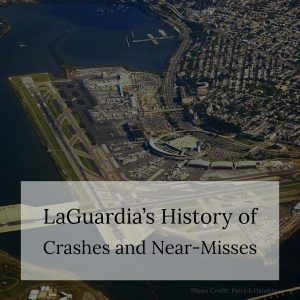 Since 1939, LaGuardia Airport—which was known as the New York Municipal Airport when it first opened—has served as one of the busiest airports in the world. Along with JFK International and Newark Liberty International, it is part of the biggest airport system in the U.S. and the second-largest in the world with respect to passenger traffic.
However, LaGuardia has seen its fair share of accidents and near-misses. Most recently, a plane skidded off the runway in late October 2016. The incident perhaps drew more attention than it might have ordinarily, as the flight happened to include Vice President-elect Mike Pence. Shortly after the incident, several news outlets referenced LaGuardia's unfortunate history of "ugly" accidents.
LaGuardia's History of Crashes and Near-Misses
Fortunately, no one was hurt in the October incident, however, the plane tore up the concrete runway as it skidded into a patch of grass. The Federal Aviation Administration (FAA) credited an "Engineered Material Arresting System" as helping the plane to stop, preventing serious injuries. The system in question allows the concrete to deliberately crush apart when a plane begins skidding.
A similar skidding accident occurred just last year, when a Delta flight slid off the runway on an icy day in March. In that case, about two dozen passengers were hurt.
In 2013, a plane's landing gear collapsed during landing, causing the plane to veer onto the grass, injuring 16 people on board.
Perhaps most notably, the "Miracle on the Hudson" landing in 2009 occurred after the U.S. Airways flight took off from LaGuardia, striking geese that disabled both engines just minutes after lift-off.
Tragically, LaGuardia has also seen several fatal aviation accidents. In 1992, problems with de-icing caused a plane to crash into Flushing Bay just after take-off. The crash resulted in 27 fatalities.
In 1989, another accident during lift-off killed two passengers and caused 15 injuries after the plane ran off the end of the runway and crashed into Bowery Bay.
Short Runways at LaGuardia
Live in New York City long enough—or fly in and out of the city a few times—and you are likely to hear about LaGuardia's infamously "short runways." At 7,001 feet and 7,003 feet, LaGuardia's runways are shorter than most runways at other major U.S. airports. According to a Wall Street Journal report, many aviation experts recommend runways be at least 6,000 feet long for "small commercial aircraft" and 10,000 feet for "nearly any commercial aircraft."
Although LaGuardia's runways are well within the suggested length for "small commercial aircraft," they fall far short of the runways at JFK and Newark, which are 14,000 feet and 11,000 feet, respectively.
As explained by New York City aviation accident lawyer Jonathan C. Reiter, "It's important for anyone hurt in an airline accident to contact an aviation accident lawyer right away. These are complicated cases that require in-depth analysis and a thorough investigation."   
Media Contact:
Jonathan C. Reiter
New York airline accident lawyer Jonathan C. Reiter. T: 212-736-0979. 
Jonathan C. Reiter Law Firm, PLLC
The Empire State Building
350 5th Avenue #6400
New York, NY 10118
T: (212) 736-0979