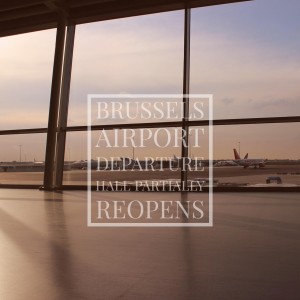 The Brussels airport departure hall has been partially re-opened weeks after two explosions led to the deaths and injuries of multiple people. Attacks on the airport and a subway station were carried out on March 22. An investigation into the attacks is still ongoing.
Source: CNN Report "Surveillance footage, cab driver offer clues in investigation in Brussels attack"

"Brussels, Belgium (CNN) In grainy images from surveillance footage, a man wearing light-colored clothes and a hat pushes a baggage cart through the airport. It's one key piece of evidence authorities are looking at as they search for suspects after two explosions at the Brussels airport and another at a busy subway station in the Belgian capital Tuesday killed at least 30 people and wounded 230 others."

To read more visit http://www.cnn.com/2016/03/22/europe/brussels-explosions/index.html.
On the day of the reopening, thousands of passengers were reportedly queued for hours amid a chaotic scene that has been attributed to the security screening process put into place.
Source: Daily Mail Report "Chaos at Brussels airport as passengers are forced to queue for hours amid tighter security checks as terminal reopens after terror attack"

"Thousands of travellers queued for hours and some missed their flights amid tighter security checks at the newly reopened departures hall at Brussels airport following the terror attacks in March. Angry passengers took to social media to complain of three-hour waits due to increased security screening at Brussels Zaventem Airport, which reopened yesterday."

To read more visit http://www.dailymail.co.uk/news/article-3569797/Chaos-Brussels-airport-passengers-forced-queue-hours-amid-tighter-security-checks-terminal-reopens-terror-attack.html?ITO=1490&ns_mchannel=rss&ns_campaign=1490.
Airport Safety Concerns Following a Terrorist Attack
According to New York aviation lawyer Jonathan C. Reiter, airlines have a duty to protect passengers from security threats that may arise from a number of circumstances including acts of terrorism. Says the attorney of incidents like the recent events concerning the Brussels Airport reopening "there are many factors to consider when choosing to reopen an airport soon after a fatal terrorist attack, and protecting passengers must be top priority. Attempting to avoid a decline in profits and reopen too soon before the right protocol is set in place can put passengers in serious danger."
The New York lawyer further says of airlines who are negligent in this capacity and others on his website "Statistics show that over 90 percent of air traffic is that of commercial airlines. Commercial airplanes are deemed the most efficient means of traveling long distances and also the safest. However, there are cases where airlines fail to adhere to the high standards of customer care and service expected of them, and subject customers to their negligent acts and behavior. Thousands of fatalities have been linked to airline errors and misconduct over the last decade."
A number of airlines have continued to suspend flights to Brussels in spite of the partial reopening.
Connect with the Jonathan C. Reiter, PLLC law firm on Facebook, Twitter
Hear the attorney's legal perspective on Aviation matters via YouTube.