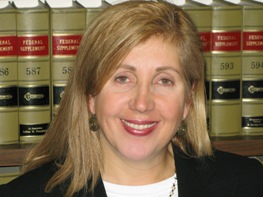 Ms. Stone graduated from Lehigh University, Magna Cum Laude, with a B.A. in Biochemistry in 1978.  She then attended New York Law School where she received her J.D., Cum Laude, in 1983.  While attending New York Law School, Ms. Stone was a member of the New York Law School Law Review, 1981-1983.  She also received the American Jurisprudence Award. Ms. Stone was admitted to the Bar of New York State in 1984.  She is also admitted to the United States District Court for the Southern District of New York and the United States District Court for the Eastern District of New York.  She is a member of American Association for Justice, the Bronx Bar Association and has been a Board Member of the Hudson River Fisheries Trust, which was established to educate children in ship building and navigation on the Hudson River.
Ms. Stone was employed by Judge Victor Rey of the Court of International Trade as a Law Assistant.
Ms. Stone's areas of practice include, personal injury, construction accidents, medical malpractice and premises liability.  Ms. Stone has also practiced in the area of matrimonial law, criminal defense and family law.  Ms. Stone has used her medical expertise in the preparation and prosecution of medical malpractice cases, including the preparation of witnesses, document discovery and trial preparation.