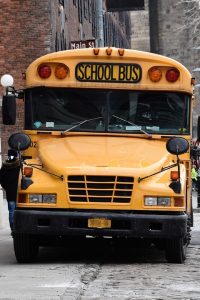 New York City, NY top attorney, handles bus accidents, MTA, airline injuries & death, medical malpractice, doctor errors, wrongful death, and construction cases.  Attorney Jonathan C. Reiter consistently delivers results.
Commercial bus accidents are an unfortunate fact of life, especially in big cities like New York City. With public transportation continuing to expand, there is an even greater likelihood of commercial bus accidents.
If you are interested in learning more about NYC bus accidents click here
School buses are commercial vehicles that have one purpose: getting children to and from school with the utmost safety and security as possible.
Unfortunately, things don't always go according to plan, and when a school bus driver causes an accident, it can set off a chain reaction of events, including serious injuries, property damage, and sometimes even fatalities.
The question then becomes: who is liable when these accidents take place?
School Bus Accident Statistics
Before answering that question, it's important to first provide some context by analyzing a variety of school bus accident statistics.
From 2006 to 2015, 1,313 people died in 'school-transportation-related' accidents, which not only involves crashes but also includes pedestrian and bicyclist deaths.
In fact, 72 percent of the people that died in these accidents were drivers or passengers in other vehicles.
Sadly, 102 people of the age 18 or younger died in those same nine years, and 61 percent were killed when a school bus hit them. (1)
Safety experts reported that children are more likely to suffer a school-bus-related accident when they are at or approaching a bus stop, than when they are passengers in one of these vehicles.
Common dangers at bus stops include buses that don't come to a complete stop and children that run in front of or behind a bus.
Causes of School Bus Accidents
The circumstances of every commercial vehicle accident are always different, but there are some common causes of school bus accidents, including:
Driver distraction

– This can result from a driver that is distracted by a mobile device or a driver that has turned to speak to unruly students. Any actions that takes a bus driver's eyes off the road, or his hands off the wheel have the potential to trigger an accident.

Mechanical failure

– This can result from bus equipment that's defective or equipment that needs repair or replacement. For example, worn treads on bus tires can cause a blowout, or cause a driver to have trouble bringing the bus to a complete stop.

Driver error

– This can include speeding, failing to obey traffic signs, changing lanes without a shoulder check, and taking a left turn in the path of oncoming traffic.
After a school bus accident results in injuries, parents of the children that are passengers in the vehicle, and injured parties in other vehicles that were struck by the bus will seek to determine what party is at fault.
Liability in School Bus Accidents
The answer to the question of who has liability in school bus accidents is not simple because it really depends on the specific circumstance of the accident.
For example, if the negligence of a driver was the primary cause of the accident, and that driver is employed as part of a public school system, then claimants would have to file legal action against the school district, which is controlled by the city where the accident took place.
In that situation, claimants would have to file a Notice of Claim against the district within a specific period of time.
In New York, for example, claimants have 90 days from the date of the accident to file this type of claim. (2)
However, if the school bus driver was employed by a private school, claimants could then take action against the driver or the school and would not be subject to the 90-day requirement since the school is not a public institution.
If a school bus accident was caused by a mechanical failure, claimants could choose to take legal action against the manufacturer of the equipment or component that failed, as well as the school district for not properly inspecting the vehicle.
Finally, in a situation in which a school bus accident is caused by a falling object, such as a utility pole that crashes onto a moving bus, claimants could take legal action against the utility company.
Finding a New York Bus Accidents Attorney
Finding a New York bus accidents attorney is essential for victims of school bus crashes that cause injury.
Whether victims were passengers in the school bus, pedestrians, or drivers and passengers in vehicles that were struck by the bus, securing experienced legal representation is vital to a claim for compensation and recovery of damages.
Media Contact:
Manhattan Bus Accident Lawyer
Attorney Jonathan C. Reiter. T: 212-736-0979
Sources:
https://www.nhtsa.gov/sites/nhtsa.dot.gov/files/documents/2015_school-transportation-related_crashes_traffic_safety_fact_sheet.pdf
***ATTORNEY ADVERTISING***
Prior results cannot and do not guarantee or predict a similar outcome with respect to any future case. Recoveries always depend upon the facts and circumstances of each case, the injuries suffered, damages incurred, and the responsibility of those involved.