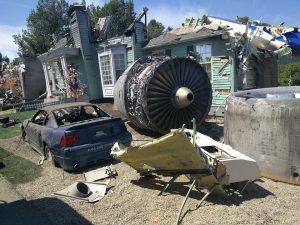 Stunt people that work on Hollywood film sets risk their lives every day, and that's especially true when the stunt involves an aircraft. In fact, a recent movie set plane accident on a major film, highlighted the dangers that can occur when things go wrong, and stunt people die attempting to perform dangerous aerial stunts.
And when things do go wrong, surviving family members of those killed in these crashes often file lawsuits against those they feel are responsible for the death of those they loved.
But the question is who is at fault when it comes to these on-set plane accidents?
Let's try to answer that question, beginning with a review of some of the most devastating movie set plane accidents in recent history.
Hollywood Movie Set Plane Crashes
Despite safety regulations, there have been several Hollywood movie set plane crashes that have killed stunt pilots.
During the filming of the 1986 blockbuster Top Gun, Art Scholl, a veteran stunt pilot that had worked on dangerous aerial stunt work on other big films was killed while performing stunts in a Pitts S-2 camera plane. (1)
Sadly, Scholl's plane crashed into the sea and neither the aircraft nor Scholl's body were ever recovered. As a result, the exact cause of the airplane accident was never determined.
More recently, two stunt pilots were killed during the filming of the film American Made, starring Tom Cruise.
Stunt pilots Alan Purwin and Carlo Berl, as well as plane mechanic Jimmy Lee Garland, were traveling in a twin-engine Piper Smith Aerostar 600 plane when the plane crashed in the Colombian mountains.
Although Purwin and Berl died in the crash, Garland survived the accident but lost all feeling in his lower body.
The three pilots had finished a long day of work on the film, which was based on the real-life exploits of a man that had been an international drug courier for Colombian cartels.
They were flying back to the movie's headquarters in Medellin, Colombia when the crash occurred.
Reports said that the right wing of the plane tilted too low and struck a hillside, and as the pilot righted the plane, he failed to see a tree that sheared off the tail of the aircraft causing the accident. (2)
Liability in Movie Set Plane Accidents
The American Made crash became a flashpoint regarding liability in movie set plane accidents because there were so many parties involved, and determining fault was a challenge.
Hollywood film sets that feature aerial action stunts must follow regulations established by the Federal Aviation Agency (FAA) regarding things such as pilots' licenses and the hours that pilots can perform aerial stunts.
When a plane crash occurs on a film set, fault is determined based on each situation, but negligence is always the legal standard.
For example, if it's determined that a plane used in an aerial stunt on a film had a manufacturing defect, then the manufacturer could be liable for that accident if claimants can prove that the defect directly caused the crash.
If the plane on a movie set crashed due to fatigue because the director forced the pilots to work long past the regulated hours, then the director and the studio that financed the film could be held liable for negligence.
Wrongful Death in Plane Accidents
A wrongful death claim is a civil suit alleging that a person died as the result of the negligence of another person or institution.
The elements that must be present for a wrongful death claim include:
Someone died

That person's death was the result of the negligence of another person

Surviving family members of the deceased suffered damages due to their loved one's death
New York Movie Set Plane Accident Lawyer
Victims of an aerial stunt crash performed for a film have the right to hire a New York movie set plane accident lawyer to protect their rights. An experienced aviation accident attorney can determine the best course of action to take to seek justice.
Media Contact:
NYC Aviation Attorney Jonathan C. Reiter. T: 212-736-0979
SOURCES
***ATTORNEY ADVERTISING***
Prior results cannot and do not guarantee or predict a similar outcome with respect to any future case. Recoveries always depend upon the facts and circumstances of each case, the injuries suffered, damages incurred, and the responsibility of those involved.