In a city famous for its heavy traffic getting around on two wheels instead of four is often much faster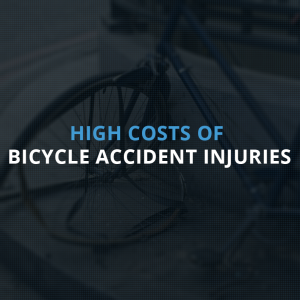 It probably doesn't come as a surprise to hear that New York City has some of the highest rates of bicycle ridership in the country. In a city famous for its heavy traffic, getting around on two wheels instead of four is often much faster and less expensive. According to the New York City Department of Transportation, 34 percent of New Yorkers ride a bicycle a few times a year, and nearly 50 percent report riding a bike "at least several times a month."
Unfortunately, the rise in the number of bicyclists is a factor in the jump in bicycle accident injuries and fatalities. In a study published in the journal Injury Prevention, researchers from the University of California San Francisco found that there were 3.8 million non-fatal and nearly 10,000 fatal bicycle accidents in the U.S. between 1997 and 2013. The total number of deaths increased from 588 in 1999 to 855 fatalities in 2013.
Medical Costs Associated with Bicycle Accidents on the Rise
In addition to more riders and more bicycle accidents, the medical costs associated with these crashes has also gone up. According to a Business Insider report, "over the last two decades, the number of people injured in bicycle accidents in the U.S. has been rising and the cost of each crash has also gone up."
The report cites the Injury Prevention study, stating that researchers used data gathered from the National Electronic Injury Surveillance System and fatal crash data from the National Vital Statistics System.
The total costs for bicycle injuries are staggering. For the bicycle injuries that occurred in the period between 1997 and 2013, the cost was $209 billion for non-fatal injuries. For fatal injuries, the economic cost was $28 billion. For each year of the study, non-fatal bicycle injuries increased by around 6,500, with total medical costs going up an average of $789 million each year. This is an increase of 140 percent over the course of the years included in the study.
What Bicyclists Can Do to Stay Safe
According to Morteza Asgarzadeh, a researcher at the Harvard T.H. Chan School of Public Health in Boston, there are several things bicyclists can do to stay safer when they ride.
Be well-informed about the risks of bicycling.
Use bicycle-specific infrastructure when possible.
Always be vigilant about watching for drivers on the road.
Give drivers room on the road.
Wear a bicycle helmet.
Asgarzadeh also says that cities can do their part by increasing lighting on roads and bicycle paths, as well as investing in infrastructure that promotes safe bicycling. Dr. Benjamin Breyer, one of the authors of the Injury Prevention study, stated that infrastructure is actually more affordable than paying for the cost of bicycle-related injuries. "In fact, we could build cycling infrastructure in one-sixth of the entire U.S. for the same cost of all these injuries in 10 years."  
Sources:
Media Contact:
Manhattan bicycle accident lawyer Jonathan C. Reiter.
T: 212-736-0979. 
Attorney Advertising
Prior results cannot and do not guarantee or predict a similar outcome with respect to any future case. Recoveries always depend upon the facts and circumstances of each case, the injuries suffered, damages incurred, and the responsibility of those involved.