Time will tell what liability the subway system has with respect to the derailment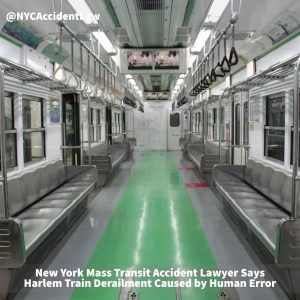 A June 2017 subway derailment in Harlem, New York has been attributed to human error, according to Metropolitan Transit Authority (MTA) officials. The derailment injured 39 people and caused widespread delays along several areas of the subway system.
MTA officials have reported that a piece of replacement rail being used in repair work was not stored properly and was instead lying on the tracks. This apparently caused the derailment to occur. One witness stated that the train hit a wall after it jumped the tracks.
In late June 2017, two track supervisors were suspended without pay following the derailment. The media has also reported that federal authorities have opened an investigation into the incident.
Injuries Caused by Train Derailments
Trail derailments are obviously scary any time they happen. Fortunately, no one was killed in the Harlem train derailment. However, past train derailments have caused fatalities. Trains, including subway trains, move at high speeds. The 2015 derailment of an Amtrak 188 train in Philadelphia claimed the lives of eight people. The catastrophic accident injured 200 others, with some injury victims suffering paralysis after the accident. In that case, the train's engineer was charged with involuntary manslaughter.
The witness accounts from the Amtrak 188 derailment are horrifying. Passengers describe the lights being abruptly cut and being plunged into instant darkness. The front trains were twisted hunks of metal, and many passengers were trapped. The force of the crash was so violent that people were thrown from their seats — others were belted in their seats, only to have their entire seats ripped from the floor of the train.
Injures included:
Concussions

Broken bones

Neck injuries

Back injuries

Head injuries

Blunt trauma injuries

Spinal cord injuries

Lacerations

Injuries to internal organs

Traumatic brain injuries
Common carriers that operate as a public utility must exercise the highest standard of care when it comes to their passengers. Public utilities include the subway, which is regulated and administered by the MTA. They must take all reasonable steps to prevent accidents. Although time will tell what liability the subway system has with respect to the Harlem derailment, it's obvious to anyone that pieces of replacement track should not be left lying around on active sections of track where trains are scheduled to be traveling at high rates of speed with passengers on board.
Contact a Mass Transit Accident Lawyer
New York City mass transit accident lawyer Jonathan C. Reiter states, "New Yorkers depend on mass transit like the subway to get around the city safely. These systems are the backbone of the city, and people count on them to function properly. As the Harlem derailment accident shows, even one careless or negligent moment of forgetfulness can cause a devastating accident that injures dozens of people. In this case, no one got hurt. But the derailment could have easily turned out much differently."   
If you've been injured in a train accident or any kind of mass transit accident, contact an experienced New York mass transit accident lawyer as soon as possible to discuss your case.
Jonathan C. Reiter Law Firm, PLLC
Media Contact:
New York City airline accident lawyer Jonathan C. Reiter. T: 212-736-0979. 
Attorney Advertising
Prior results cannot and do not guarantee or predict a similar outcome with respect to any future case. Recoveries always depend upon the facts and circumstances of each case, the injuries suffered, damages incurred, and the responsibility of those involved.
Sources: