Crashes claim the lives of the injured as well as emergency medical personnel who work so diligently to help injury victims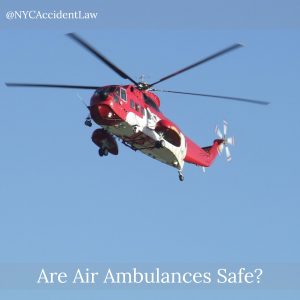 Whether they're called life flights, air ambulances, or medevacs, air ambulances perform a vital service. They get people who have been seriously injured away from the scene of an accident and to the hospital much faster than a typical ambulance that must contend with traffic and conventional roads. Air ambulances, which are typically helicopters, are also capable of flying injury victims to trauma centers located in distant cities or states, where the injured can received specialized care from top medical experts.
Air ambulances are more popular than ever before. In 1980, there were fewer than 50 of these aircraft in the country. By 2008, there were 668 medical transport helicopters flying for more than 200 hospitals across the United States.
But how safe are these aircraft? It's devastating when an air ambulance crashes. When crashes happen, they claim the lives of the injured as well as emergency medical personnel who work so diligently to help injury victims.
High Rates of Air Ambulance Crashes
According to the National Transportation Safety Board (NTSB), medical helicopter crashes caused 126 deaths between 1992 and 2008. In 2008 alone, there were 12 crashes and 29 fatalities. A story published in Flying Magazine states: "…[I]n 2008, the job of EMS helicopter pilot ranked as the most dangerous in America, eclipsing traditionally risky professions like logging, steelworking, deep-sea fishing and coal mining."
In April 2017, an air ambulance crashed in Texas, killing all three people on board. According to news reports, the helicopter had just left the airport when the crash occurred.  
In November 2016, an air ambulance plane crashed in Nevada while transporting a heart disease patient to Utah. Everyone on board was killed. The aircraft was a twin engine plane that reportedly experienced mechanical problems after takeoff. The plane lost altitude and crashed in a parking lot in northern Nevada.
Aviation Accident Lawyer Discusses Air Ambulance Safety
New York aviation accident lawyer Jonathan C. Reiter states, "Flying Magazine identified some of the safety hazards air ambulance pilots face. These hazards include pressure to accept flights they might otherwise decline. For example, a hospital may urge a pilot to complete a flight in poor weather because a patient is badly injured and in desperate need of transport. This puts pilots in a very tough position. Other areas in need of safety improvements include cockpit technology and pilot training simulation."
Unlike commercial airline pilots, air ambulance pilots must land in a variety of conditions and environments. Accidents happen all over the place, including the middle of busy highways. Air ambulance pilots must contend with telephone wires, trees, and other obstacles. It's rare that they have the option of setting down on a flat helipad. And because more car accidents happen at night than during the day, air ambulance pilots must often fly at night, when visibility is less than favorable. All of these factors can make for more dangerous flying conditions that put patients, flight crew, and pilots at risk.
Contact Aviation Accident Lawyer  
If you've been injured in an air ambulance accident, or you have lost a loved one in a medical helicopter crash, contact an experienced aviation accident lawyer near you.
Media Contact:
Aviation accident lawyer Jonathan C. Reiter. T: 212-736-0979. 
The Empire State Building
350 5th Avenue #6400
New York, NY 10118
Source: Jonathan C. Reiter Law Firm, PLLC
Attorney Advertising
Prior results cannot and do not guarantee or predict a similar outcome with respect to any future case. Recoveries always depend upon the facts and circumstances of each case, the injuries suffered, damages incurred, and the responsibility of those involved.
Sources: