No airline worker has the right to assault a passenger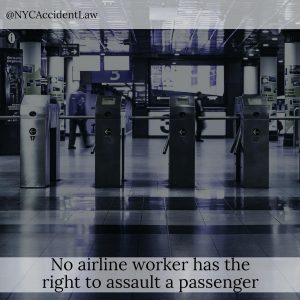 People around the world were stunned when a video of airport police officers dragging a bloodied and unconscious passenger off a United Airlines plane made headlines. The ensuing public relations fallout was so intense that United announced it would drop its famous "fly the friendly skies" slogan and rebrand. Several more high profile incidents have followed, causing people to question just how friendly commercial airlines are these days.
easyJet Worker Punches Man Holding Child in the Face
Unfortunately, airline customer service doesn't seem to have improved. In July 2017, the New York Times and other media outlets reported that an airport worker in Nice, France punched an easyJet passenger who was holding a baby in his arms.
The Times reports that the passenger attempted to snap a photo of the airline employee, who was allegedly smiling — something that irritated a long queue of passengers who had just been told their flight was delayed for 14 hours. "The employee swiftly slapped the cellphone to the floor. The [passenger] retaliated, shoving his hand into the attendant's shoulder and then his face. The attendant, regaining his footing, lunged forward and threw a jab into the man's face."
Although no video of the incident has surfaced, several passengers captured photos of the incident, which indeed shows the airline worker with his army fully extended in a lunging position. Several passengers looking on seem shocked and horrified. The photos also clearly show that the passenger was holding a young child in his arms.
Passengers' Rights in Airports and on Flights
Flying can be a stressful experience, especially when flights are delayed. No matter how high tensions rise, however, no airline worker has the right to assault a passenger. Snapping a photo of someone is not justification for physically attacking another person.
If you are assaulted or threatened with bodily injury by an airline worker, it's important to contact an experienced aviation accident lawyer. Because airlines are government entities or semi-government entities in many places, pursuing compensation for an injury inflicted by one of their employees can be a complicated process. And because people are obviously traveling when these injuries occur, they may be thousands of miles from home. A knowledgeable aviation accident lawyer will know where to pursue a claim and how to handle what is often a complex legal process.   
Contact an Aviation Accident Lawyer About Your Case Near You
Despite the rash of serious incidents involving the mistreatment of passengers, airline assault cases continue to make headlines. Hopefully the fact that these disturbing incidents are coming to light will shine an important spotlight on the need for airlines to train their employees about the proper ways to handle stress and frustration. If you have been injured by an airline worker, flight attendant, or even another passenger, contact a aviation accident lawyer near you as soon as possible to discuss the options in your case.
Sources:
Author: Jonathan C. Reiter.
T: 212-736-0979. 
Attorney Advertising
Prior results cannot and do not guarantee or predict a similar outcome with respect to any future case. Recoveries always depend upon the facts and circumstances of each case, the injuries suffered, damages incurred, and the responsibility of those involved.