An Uber spokesperson told NPR that the company took action after learning of the fire but "could have done more."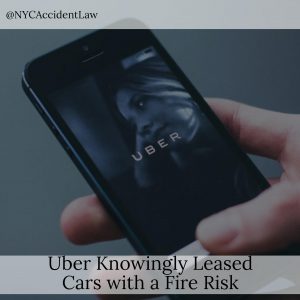 According to reports from The Wall Street Journal and NPR, popular ridesharing service Uber leased vehicles to customers even though it knew the vehicles contained a defect that could lead to an electrical fire. Reports state that Uber purchased over 1,000 Honda models in April 2016 — all of which were defective. Despite knowing about the potential for a serious or deadly fire, Uber reportedly leased them to customers anyway. In turn, these customers worked as Uber drivers, transporting passengers.  
NPR reports that one man had just dropped off a passenger in January 2017 when the Honda he was driving began to smell like smoke and "spouted flames from its dashboard…melting the car's interior and cracking its windshield."
Emails Show Uber Knew Cars Were Defective
The Wall Street Journal also reports that a review of internal Uber emails and documents reveals that the company knew the Honda vehicles were defective but "continued to lease them to drivers unfixed." Furthermore, reporting states that Uber executives knew the cars had been recalled but failed to take them off the road.
Uber first expanded into the Asian market in 2013, launching in Singapore. Because government rules require individuals in Singapore to purchase a "certificate of entitlement" giving them the right to own a car for 10 years, few people can afford to own a vehicle. As a result, Uber has been a big hit in the region. Uber has apparently taken advantage of the area's low car ownership by leasing vehicles to drivers who wish to work for Uber. NPR reports, "It represented a new approach for the company, which avoids owning assets."
NPR also reports that Uber bypassed purchasing vehicles from authorized dealers and instead chose to import cars from smaller dealers working within a so-called "gray market." An NPR report goes on to state that safety rules in the gray market are more difficult to enforce.
An Uber spokesperson told NPR that the company took action after learning of the fire but "could have done more." However, reporting states that Uber executives at the company's headquarters in San Francisco were made aware of the January 2017 fire in Singapore and decided to deactivate the component associated with the fire risk and "leave the cars on the road to wait for replacements."
Contact a NYC Defective Products Lawyer About Your Case  
Consumers count on product manufacturers to produce safe products — and to do the right thing when they learn that a product is flawed or potentially dangerous. Unfortunately, some companies put profits ahead of safety. Manufacturers have a responsibility to fix defective products as soon as they know about a problem. If you have been injured by a dangerous or defective vehicle or other type of product, contact a New York City defective products lawyer as soon as possible to discuss your rights.
Sources:
http://www.npr.org/sections/thetwo-way/2017/08/04/541692151/uber-knowingly-leased-unsafe-cars-to-its-drivers-in-singapore-report-says
By: Jonathan C. Reiter – New York City defective products lawyer
T: 212-736-0979. 
Attorney Advertising
Prior results cannot and do not guarantee or predict a similar outcome with respect to any future case. Recoveries always depend upon the facts and circumstances of each case, the injuries suffered, damages incurred, and the responsibility of those involved.