The plane was forced to remain at the incorrect airport for two hours while officials sorted out the mistake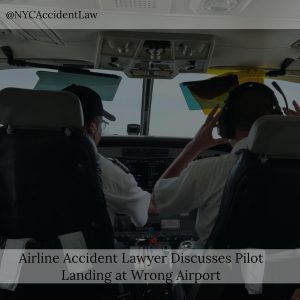 It's a mix-up that could have had deadly consequences. Media reports state that the National Transportation Safety Board (NTSB) recently released a report about a serious pilot error that took place in July 2016.
Instead of landing at Rapid City Regional Airport in South Dakota, the plane landed six miles away at Ellsworth Air Force Base.
The report says that two pilots flying a Delta Air Lines flight with 129 people on board landed at the wrong airport. According to a BBC report, "The [NTSB] blamed Delta's two pilots for not using all the instruments at their disposal to determine their location."
The plane was forced to remain at the incorrect airport for two hours while officials sorted out the mistake. Fortunately, no one was injured in the incident.
Officials from the NTSB also stated that the mistake could have been caused by the similarities in the runways, which both face northwest to southeast and have compass headings that are only 10 degrees apart.  
Reports also state that the error is "fairly common" among pilots approaching the two airports, however, flight crews and air traffic controllers usually catch the mistake before a plane actually lands in the wrong location. Reports also say that two other incorrect landings occurred in 2004 and 2015. In the 2004 case, a Northwest Airlines jet landed at the wrong airport. The 2004 incident involved a small private plane.
According to an ABC News report, statistics from the 1990s and onward show that at least 150 flights have either landed at the incorrect airport or started to land and realized their mistake in time to correct it.
NY Airline Accident Lawyer Discusses Pilot Errors
New York aviation accident lawyer Jonathan C. Reiter states, "Pilot error is the leading cause of aviation accidents. One study revealed that human factors have been responsible for 74 commercial aviation accidents since 2005. When pilots make mistakes, hundreds of lives are on the line. When it comes to flying, the margin of error is extremely narrow."  
Other industry experts claim that up to 85 percent of aviation accidents are due to pilot error.
Pilot error is a top factor in commercial aviation as well as general aviation. The Colgan Air commuter plane accident near Buffalo that killed 50 people in 2009 was caused by a fatigued pilot, lapses in pilot training, and scheduling problems — all issues that could have been avoided.
When an aviation accident occurs, survivors and the loved ones of those involved often don't know where to turn for help. If you were injured on an airline, or you have lost a loved one in an aviation accident, don't wait to get legal guidance in your case. Discuss your claim with an experienced New York City aviation accident lawyer today.  
Sources:
http://www.bbc.com/news/world-us-canada-40176462

http://abcnews.go.com/US/wireStory/federal-investigators-blame-pilot-wrong-airport-landing-47863139

http://www.denverpost.com/2010/02/13/human-error-is-biggest-obstacle-to-100-percent-flight-safety/

https://www.avbuyer.com/articles/business-aviation-insurance/85-of-aviation-accidents-are-caused-by-pilot-error-28950
Media Contact:
New York airline accident lawyer Jonathan C. Reiter. T: 212-736-0979.