Railroad accidents are not a rare event act quickly to protect your rights.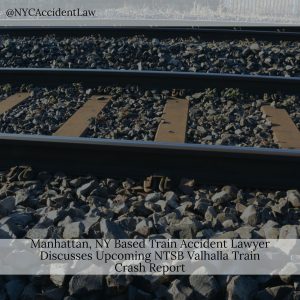 As reported by CBS New York, the National Transportation Safety Bureau (NTSB) is set to release the results of its investigation of a deadly train accident that took place two years ago in Valhalla, New York.
The crash, which occurred on February 3, 2015 in the evening hours, involved a commuter train on Metro-North Railroad's Harlem Line. The train struck a vehicle, killing the car's driver and six people in the train. Fifteen other people were seriously injured in the crash.
The CBS report states that her SUV "became caught in heavy traffic on the railroad crossing…" According to the husband of the female motorist killed in the crash, the crossing was dangerous.
Final NTSB Report Expected
The news report states that, although the NTSB report has not yet been released, preliminary documents in the investigation hint at certain factors being responsible for the accident. The driver's husband says he believes the report will contain a discussion of a failure of a "preemptive traffic light system."
According to the story, the light is controlled by the State Department of Transportation on the Taconic Parkway and should have turned green to ensure the area surrounding the railroad crossing was free of traffic. The report also states that the NTSB has said the light did not turn green at the time of the accident, causing traffic to back up from the intersection to the crossing.
The news report goes on to state that the crossing remains essentially unchanged from the night of the crash, save for the addition of a sign.  
NYC Train Accident Lawyer Discusses Railroad Crashes  
New York City auto accident lawyer Jonathan C. Reiter explains, "Although rail travel is statistically much safer than traveling by car, railroad accidents are not a rare event. An Amtrak crash in 2015 carrying over 200 passengers from Washington, D.C. to New York killed seven passengers. In December 2013, another Metro-North train derailed in the Bronx, injuring 63 people and killing four. These are just two of the most recent deadly train disasters in the United States."
Railroad disasters are in fact common enough that a recent CBS News report lists 11 major catastrophic train accidents in recent history, with the accidents occurring between 1993 and 2015. In several of the crashes, hundreds of passengers were injured.
If you have been involved in a train accident or train derailment, it's important to speak to an experienced New York City train accident and mass transit accident lawyer as soon as possible. Act quickly to protect your rights.   
Media Contact:
Manhattan NY  Based Train Accident Lawyer
Jonathan C. Reiter.
T: 212-736-0979.