If you have been injured in a train accident it's important to protect your rights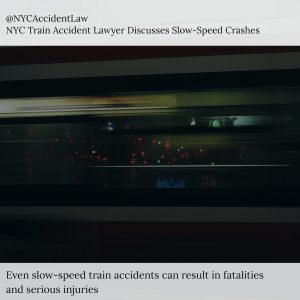 Just days after the 2017 New Year, a serious train crash injured at least 100 passengers in Brooklyn.
According to a Chicago Tribune report, the accident, which involved the Long Island Rail Road (LIRR), occurred at 8:30 a.m. during the morning commute when the front of a "slow-moving train hit a bumping block as it pulled into Atlantic Terminal… left the tracks and smashed into a small structure." The train was carrying around 450 passengers at the time of the accident.
Authorities have stated that a rail pierced the floor of a train car, "hurling passengers onto the floor and slamming them into each other." The terminal, which is next to the Barclays Center, is located beneath a shopping mall.   
The report goes on to state that some passengers were removed from the scene on stretchers, while others looked stunned as they were helped to the pavement outside the terminal. Many passengers had visible injuries involving limps and bleeding lacerations. One passenger said "people just went flying" when the train crashed.
Witnesses Say Terminal Structure Shook on Impact
One witness told the Tribune that "the entire structure started shaking" at the time of the collision, making him fear a bomb had exploded.
Fortunately, no one was killed in the accident, however, the crash comes just months after a deadly rail crash in Hoboken, New Jersey, which also involved a commuter train. The news report notes that the Hoboken train accident also involved a train colliding with and going over bumping posts and that federal investigators are investigating whether a more modern bumper could have prevented the crashed. More than 100 people were injured and one person was killed in the Hoboken crash, which occurred on September 29, 2016.
LIRR and Hoboken Crash Investigations May Be Combined
According to a February 21 Newsday report, the National Transportation Safety Board (NTSB) has stated that it is considering combining the investigations of the LIRR crash and the September Hoboken crash to "address the need to prevent slow-speed train accidents at rail terminals."
NTSB officials stated in the story that the LIRR train was traveling 10 miles per hour at the time of the accident, which was five miles per hour faster than the posted speed limit.     
NYC Train Accident Lawyer Discusses Slow-Speed Crashes
New York City accident lawyer Jonathan C. Reiter states, "As the LIRR crash and the Hoboken, New Jersey crash show, even slow-speed train accidents can result in fatalities and serious injuries."  
If you have been injured in a train accident, or you have lost a loved one in a train crash or derailment, it's important to protect your rights by speaking to an experienced New York train accident lawyer as soon as possible.
Media Contact:
New York City train accident lawyer Jonathan C. Reiter. T: 212-736-0979.