Recently, the FAA cracked down on retail giant Amazon for flying hazardous materials in violation of federal safety rules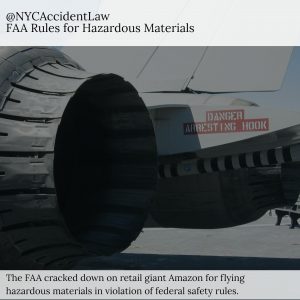 When most people think about aviation and airline travel, they automatically think of passenger airlines. However, cargo flights are in the sky just as often as airplanes that carry people, and the Federal Aviation Administration (FAA) has strict rules for the types of cargo these planes are permitted to have on board.
Recently, the FAA cracked down on retail giant Amazon for flying hazardous materials in violation of federal safety rules. Furthermore, this most recent fine is not an isolated incident. According to a Forbes report, Amazon is facing over $1 million in fines for a variety of shipping violations.  
If you have been hurt in any kind of aviation accident, you need the help of an experienced lawyer. Discuss your case with a New York City aviation accident lawyer as soon as possible.
FAA Rules for Hazardous Materials
The FAA has specific rules for the proper handling of hazardous materials on airplanes. When you consider that a Boeing 747 burns one gallon of fuel every second and can carry up to 238,604 liters of fuel, it's easy to understand why the federal government puts strict rules in place for the transport of flammable and hazardous materials.
Most recently, the FAA announced that it has proposed a $130,000 fine against Amazon for shipping corrosive rust stain preventer by air. Just two weeks before that, the FAA said it will fine Amazon $350,000 for shipping a package containing corrosive drain cleaner that leaked through the box and burned several UPS workers.
The FAA also reports that Amazon had 24 hazardous materials violations between 2013 and 2015, with leaks occurring in 15 of these incidents.
Cargo Plane Fire
Although there have been no reports of the hazardous materials leaks causing fires or other emergencies on board the aircraft in the Amazon case, a separate incident in Florida caused a fire on board a FedEx cargo plane. According to a CNN report, a large fireball exploded out of the aircraft's side after the plane's landing gear collapsed during landing. Fortunately, no one was injured in that accident.  
New York City Aviation Accident Law Firm
If you have been injured during a flight or on the ground in an aviation accident, you may be entitled to compensation for your medical bills, lost wages, and other damages. Aviation accidents are complex cases that usually involve both state and federal law. It's important to work with a lawyer known for getting exceptional results in this area of law.
Call aviation lawyer, Jonathan C. Reiter, to get a free case evaluation today. You can reach us through our online contact form, or by calling 212-736-0979.
Jonathan C. Reiter Law Firm, PLLC
The Empire State Building
350 5th Avenue #6400
New York, NY 10118
T: (212) 736-0979
Source: Jonathan C. Reiter Law Firm, PLLC