Don't assume that the person is okay, or that the injury isn't that serious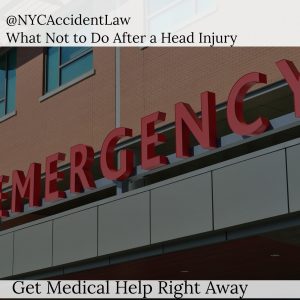 Although many people associate brain injuries with contact sports, the reality is that traumatic brain injuries (TBIs) are caused by a variety of accidents. According to the Centers for Disease Control and Prevention (CDC), 1.7 million Americans suffer a TBI every year. These injuries are caused by car accidents, slips and falls, playground injuries, and many other types of accidents.
TBIs are also a factor in a third of all accident-related deaths in the United States. Each year, 52,000 people die after suffering a TBI. Brain injuries are also a leading cause of disability in the U.S., with over 5.3 million Americans suffering a permanent disability due to a TBI.
NYC Personal Injury Lawyer Explains What Not to Do After a Head Injury
In many cases, knowing what not to do after an injury is just as important as knowing what steps to take following an accident. If you suspect you've suffered a TBI, it's important to avoid doing anything that could exacerbate it.
Get Medical Help Right Away – The first step to take after any head injury is to seek medical treatment. The symptoms of a serious TBI aren't always immediately obvious. See a medical professional to get appropriate treatment.
Don't Move Someone with a Head Injury – Never move a person who has sustained a head injury that causes them to fall to the ground or lose consciousness. You can't be certain that they haven't also suffered a spinal injury. If you move them, you could accidentally cause the vertebrae to shift, which can make the injury much worse. If the person is wearing a helmet, don't remove it. Wait for medical professionals to do it.  
Don't Wash Deep Wounds – Don't try to wash head injuries that are deep or bleeding profusely. Instead, get medical care as quickly as possible so the wounds can be cleaned in a safe, sterile environment.
Don't Shake Someone Who Is Faint or Woozy – Your first instinct might be to gently shake someone who has suffered a blow to the head and looks like they're on the verge of passing out. However, it's important to never shake someone who has suffered a head injury. This can make the injury worse, and it could also make a spinal cord or neck injury more serious. Instead, leave the person in place until emergency medical personnel arrive.  
NYC Personal Injury Lawyer Discusses Pedestrian Injuries
New York City personal injury lawyer Jonathan C. Reiter states, "Traumatic brain injuries are common, yet many people don't know how to react when they or someone they love suffers one. It's important to never dismiss the potential seriousness of this type of injury. Don't assume that the person is okay, or that the injury isn't that serious. Always see a doctor if you or a loved one suffers a TBI."
If you have been injured in an accident that resulted in any kind of head injury, protect your rights as soon as possible. Talk to a New York City personal injury lawyer today to discuss your case.
Sources:
Media Contact:
NY personal injury lawyer Jonathan C. Reiter. T: 212-736-0979.