Individuals who have lost a loved one in these crashes are often left wondering how such an accident could have happened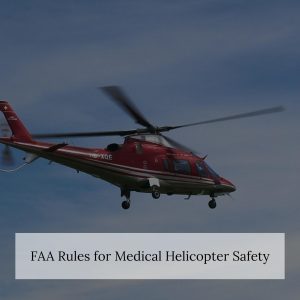 Sometimes called "life flights," medical helicopters and fixed wing aircraft are instrumental in getting critically ill patients to hospitals faster than an ambulance on the ground. They also regularly transport organs across the country for doctors to use in life-saving organ transplants. In addition, they serve patients in rural areas, where access to medical facilities is often limited. These dedicated air crews save lives every day. Tragically, these flights are subject to the same risks as those encountered by other aircraft.
Recently, four people lost their lives in a medical aircraft accident in Nevada. According to a Fox News report, the airplane experienced mechanical problems shortly after it took off, causing it to lose power and altitude. It crash-landed in a commercial parking lot near a retirement community, causing several parked vehicles to catch on fire. The four casualties include one patient and three crew members. There were no survivors.
Sadly, this accident comes within months of an eerily similar crash involving a medical flight. In July 2016, a medical transport plane crashed in northern California, also resulting in four fatalities and no survivors. A CNN report said the pilot reported smoke on board the aircraft five minutes before losing communication with air traffic controllers on the ground.
FAA Rules for Medical Helicopter Safety
"Although medical aircraft accidents are comparatively rare," says New York City aviation accident lawyer Jonathan C. Reiter, "they are nevertheless devastating when they happen. Individuals who have lost a loved one in these crashes are often left wondering how such an accident could have happened."
In 2014, the Federal Aviation Administration (FAA) created new rules in an effort to improve helicopter safety, including flights involving medical helicopters. Under the new rule, all helicopters operating in the U.S. are now required to:
Employ stricter flight procedures in inclement weather.

Use enhanced protocols for flights in challenging weather, including flying at night and landing in remote areas.

By 2017, use the most advanced on-board technology and equipment for avoiding terrain and obstacles.

By 2018, be equipped with flight data monitoring systems.
Additionally, the new rule specifically requires air ambulance helicopter pilots to install Helicopter Terrain Awareness and Warning Systems, establish operations control centers if they operate 10 or more helicopters, use pre-flight risk-analysis programs, make sure pilots hold an instrument rating, and provide safety briefings for medical crew.
The FAA has stated that 125 fatalities occurring on air ambulance helicopters between 1991 and 2010 could have been avoided had the current rules for medical flights been in place sooner.
Media Contact:
Aviation Lawyer Jonathan C. Reiter. T: 212-736-0979. 
Jonathan C. Reiter Law Firm, PLLC
The Empire State Building
350 5th Avenue #6400
New York, NY 10118
T: (212) 736-0979