Like any other type of machinery, however, escalators can cause serious injuries when they malfunction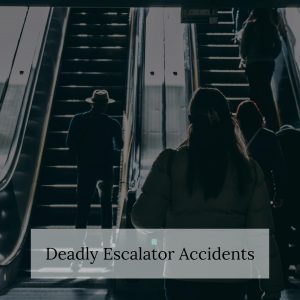 Most people use escalators without a second thought. The popular people movers are just about everywhere — in office buildings, shopping malls, and even some apartment buildings.
Like any other type of machinery, however, escalators can cause serious injuries when they malfunction. Shortly before the 2016 holidays, shoppers in a Brooklyn mall were injured when an escalator allegedly started up without warning after being stopped.
According to one report, witnesses said people were walking down the escalator while it was not functional when it suddenly started up and began moving at a faster than normal pace. One witness described the escalator's motion as "catapulting" people into one another. Five people sustained minor injuries, but two people involved in the accident were taken to the hospital in serious condition.
Deadly Escalator Accidents
Although escalators may seem harmless, they pose serious safety risks. According to the director of the Centre for Information Leadership at City University London, escalator design hasn't even really changed all that much since the first escalator was patented in 1892.
Over the years, there have been a number of serious and deadly accidents, including amputations, strangulations from clothing being caught in the gap between the stairs and the platform, and injuries caused by escalators moving erratically and tossing people off.  
In 2015, an escalator accident in China made headlines when a mother died after a floor panel in front of an escalator collapsed, pulling her body into the treads. Video footage shows her saving her small child from falling seconds before she was killed.
New York City catastrophic personal injury accident lawyer Jonathan C. Reiter explains, "These types of horrific escalator accidents don't just happen in the developing world. Serious escalator accidents happen right here in the United States. When building owners and managers fail to service and maintain the escalators in their buildings, people can get seriously hurt and even killed."
Escalator Accidents Number in the Thousands
A hidden camera investigation conducted in the U.S. in 2010 revealed several serious and potentially deadly escalator defects at a variety of location around New York City, including a movie theater escalator with steps that had gaping holes in them.
In that report, safety experts pointed out that there are no federal regulations for escalator safety. Instead, it's up to state and local governments to set their own rules and enforce them.
The Consumer Product Safety Commission estimates that 11,000 people in the U.S. were injured on escalators in 2008.
Media Contact:
New York City catastrophic accident lawyer Jonathan C. Reiter. T: 212-736-0979.  Jonathan C. Reiter Law Firm, PLLC
The Empire State Building
350 5th Avenue #6400
New York, NY 10118