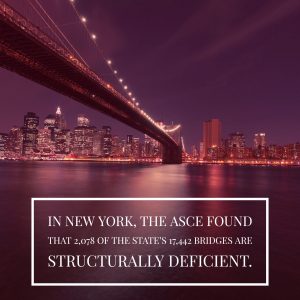 The 2007 Minneapolis bridge collapse on the city's busy Interstate 35 shed much-needed light on the dangerous condition of America's aging infrastructure. The collapse, which occurred during rush hour, killed 13 people and injured another 145.
Despite the collapse, the American Society of Civil Engineers (ASCE) points out that the U.S. has done little to repair and rebuild the millions of bridges, roads, ports, dams, and levees that make up the nation's infrastructure – much of which was built during the Works Progress Administration between 1933 and 1940. According to former New York City parks commissioner, Adrian Benepe, "Many of those structures are nearing the end of their useful lives."
U.S. Infrastructure Given a D+ Grade
Although nearly everyone in government, engineering, and construction agrees that the country's infrastructure is faring poorly, no one seems to know how to solve what has become a massive problem. A 60 Minutes report pointed out that one in every nine bridges across the country – for a total of 70,000 bridges – is considered structurally deficient. Ray LaHood, the co-chairman of a bipartisan group committed to fixing the infrastructure problem, says the infrastructure in the U.S. is "on life support."
The ASCE agrees. In fact, it gave U.S. infrastructure a D+ grade when it last analyzed the country's roads, power grid, and other functional and physical structures in its 2013 report card. Certain parts of the nation's infrastructure, such as solid waste disposal, performed a little better, with a B- grade. However, other parts, such as levees and inland waterways, did worse, scoring a D- in both categories. The ASCE estimates that it will take $3.6 trillion to repair the infrastructure in the U.S., assuming the money is raised or allocated by lawmakers by 2020.
How New York's Infrastructure Scores
In New York, the ASCE found that 2,078 of the state's 17,442 bridges are structurally deficient. The ASCE also determined that New York needs an investment of $22 billion to fix its drinking water infrastructure over the next 20 years. The ASCE also reports that 23 percent of the state's major roads are in poor condition.  
New York Catastrophic Injury Law Firm
No one starts their morning commute anticipating they will be involved in a catastrophic accident, such as a bridge collapse or rail disaster. Unfortunately, a crumbling infrastructure on the majority of the country's roads and bridges puts everyone at an increased danger of being injured or killed in a devastating infrastructure failure. If you have been injured in this type of accident, you need the help and experience of a New York City personal injury lawyer who regularly handles such complicated disasters.
Call New York City personal injury lawyer, Jonathan C. Reiter, to discuss your case for free today. You can reach us through our online contact form, or by calling 212-736-0979.
Jonathan C. Reiter Law Firm, PLLC
The Empire State Building
350 5th Avenue #6400
New York, NY 10118
T: (212) 736-0979
Source: Jonathan C. Reiter Law Firm, PLLC