It's important to regularly check to determine if your vehicle has been subject to a recall.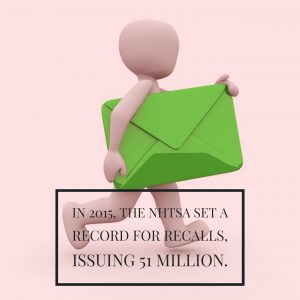 If you're like most people, you do at least a portion of your correspondence over email, rather than via regular mail. According to Radicati Group, Inc., a technology market research firm, there were over 205 billion emails sent each day. In an era when people like to get information as quickly as possible, snail mail just doesn't cut it like it used to.
The National Traffic and Motor Vehicle Safety Act, which was passed in 1966, gave the National Highway Traffic Safety Administration (NHTSA) the authority to issue recalls for defective vehicles, vehicle components, and child safety seats. Since 1966, the NHTSA has issued more than 390 million recalls. In 2015, the NHTSA set a record for recalls, issuing 51 million. Many of these recalls were due to defective Takata air bags, which represent the largest motor vehicle recall in U.S. history.
There is no question that auto recalls save lives — but they are only effective if the intended recipient actually receives one. Currently, motor vehicle recalls are issued via first-class mail through the U.S. Postal Service. It's easy to miss these little cards, which can get lost between the pages of a magazine, or wedged between pieces of junk mail. In other cases, a vehicle owner moves, and the recall notice is sent to the wrong address.
NHTSA Proposed Rule for Emailing Recall Notices
To remedy this problem, the NHTSA has proposed a new rule that would require automakers to continue sending recall notices through regular mail, and to also transmit recall notices via electronic methods that may include email, text, smartphone applications, internet advertising, TV, and the radio.
Because people tend to hang on to their email addresses, even if they change their residence, the goal is to reduce the likelihood that a vehicle owner will miss the recall notice. If it ends up in your email inbox, it can't get lodged between two other emails, or accidentally dropped on the ground.
Has Your Vehicle Been Recalled?
If you own a vehicle, it's important to regularly check to determine if it has been subject to a recall. You can do this for free by visiting Safercar.gov, which is an NHTSA website that allows anyone to look up recall information by Vehicle Identification Number. Because new recalls are issued all the time, it's important to check back often.
New York Personal Injury Law Firm
Have you been injured in a car or truck accident? Traffic accidents happen every day. When one happens to you, however, it can stop your life in its tracks. If you have been hurt due to another person's negligence in any type of motor vehicle accident, you need to speak to a New York City auto accident lawyer to safeguard your legal rights.
Call New York City personal injury lawyer, Jonathan C. Reiter, to receive a complimentary case evaluation. You can reach us through our online contact form, or by calling 212-736-0979.
Jonathan C. Reiter Law Firm, PLLC
The Empire State Building
350 5th Avenue #6400
New York, NY 10118
T: (212) 736-0979
Source: Jonathan C. Reiter Law Firm, PLLC